[Source: "New Industry" October issue reporter / Luo Gemei]

In 2010, the revenue of LED lighting products was less than 50 million yuan. In 2011, it was close to 100 million yuan. In the first half of 2012, the revenue of LED lighting products was nearly 100 million yuan.

With a compound annual growth rate of 100%, Sun Yongguang (600261.SH) general manager Guan Yong began to build a billion-dollar dream of LED lighting for sunlight.

"In recent years, every step of LED lighting development has exceeded our expectations." Guan Yong told "New Industry" that in less than a year, the price of LED lighting products has dropped by 50%, traditional lighting. In the next three years will accelerate the transformation of LED lighting.

"The rapid development of LED lighting has become an opportunity for the rapid development of lighting manufacturers. According to the internal plan of the sun lighting, with the popularity of LED lighting, the sun lighting will become a billion-level lighting manufacturer by 2018." Guan Yong said.

However, the foundation of tens of billions of lighting manufacturers is not only the improvement of production capacity, but also the improvement of core capabilities such as technology, management and talent. What's more, Sunshine Lighting's revenue in 2011 was only 2.35 billion yuan, far from the tens of billions of enterprises.

Therefore, in the past two years, Guan Yong has been participating in the world's large-scale lighting exhibitions in order to keep abreast of the latest development direction of LED lighting, and to continuously find professionals with their own innovative capabilities to join the sunshine lighting.

Expected development

In fact, the confidence of Guan Yong and Sunshine Lighting to build a billion dreams comes from the changes in the LED market and the rapid advancement of technology.

"In 2007, the luminous efficiency of LED lighting products was only 50 lumens per watt, and now it has reached 100 lumens per watt, which can fully meet all lighting needs."

Guan Yong said that the maturity of technology has made mass production a reality. The most direct response of the market is that the cost of LED lighting continues to decline.

More critically, regardless of the economic crisis in Europe and the United States, or the overcapacity crisis in the LED industry, it has not slowed down the development of the LED lighting market. On the contrary, it has also promoted the rapid growth of the LED lighting market.

"In the first half of this year, China's traditional lighting exports increased by only 1%. Compared with the previous year's growth of 10%-13%, there has been a marked weakness, but the export volume of LED lighting has increased rapidly." Guan Yong said that a lot of capital madness Into the LED market, although caused by the overcapacity of LED chips upstream, but also led to LED lighting products prices fell by 50% in less than a year, in disguise to accelerate the development of the LED lighting market.

The above reasons also make the structure of sunlight lighting products change rapidly.

"In 2010, the proportion of LED lighting revenue of Sunshine Lighting was 2%, and the proportion of LED lighting increased rapidly by 4% in 2011. In the first half of this year, LED lighting revenue exceeded that of last year, and the proportion rose to 8%." Guan Yong expects 2012 Sunshine Yangming LED lighting business will account for 10%.

According to Guan Yong's statement and the financial figures of Sunshine Lighting, the revenue of LED lighting in 2010 was about 43.4 million yuan, and it rose to 94 million yuan in 2011, an increase of 117%.

Unfinished

For more information, please refer to: http://

This cable is one of the Control Cable and it is with OFC copper conductor insulated and sheathed by PVC material. This cable may be used in dry or wet places and widely applied to transmit and distribute low voltage electrical power, data or signal. there have optional choices of flexibility and screen material to fit for installation as request. Some control cables can bear larger mechanical forces. Some of them is with shielding and flame retardant performance.

Product features

Conductor: OFC

Insulation and jacked: PVC

Color: Black

Other component: Optional screen(braided or Cu)

Performance: shielding or flame retardant

Classification

1- Braided screen type

2- Copper screen type

3- Steel tape armored type

4- Flexible control cable

5- Braided screen flexible control cable

6- Fire retardant flexible control cable

7- Copper screen fire retardant control cable

8- Flame retardant steel tape armored type

9- Fire retardant flexible control cable

Application

The PVC insulated PVC sheathed control cable is suitable for patching of control, signal protected and measures systems with rated voltage up to and including 450/750V and 600/1000V.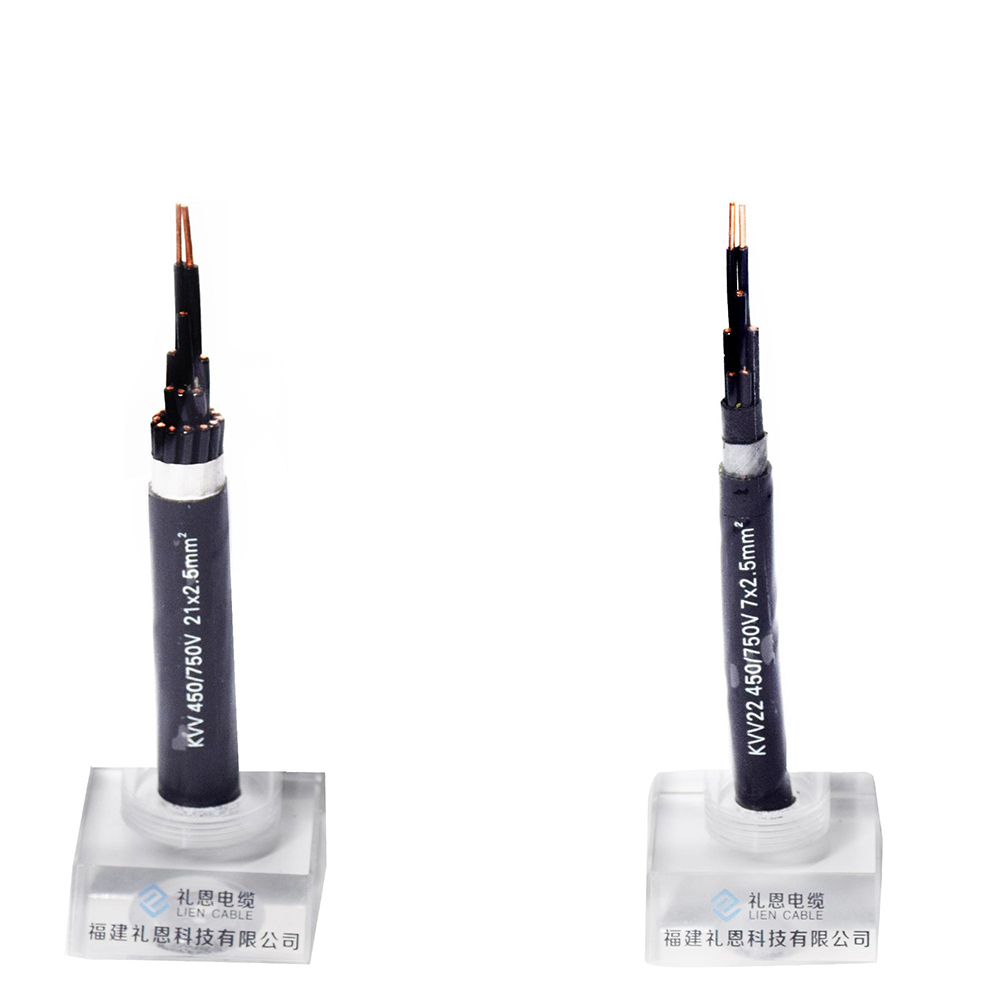 Using features

l Rated power-frequency rated voltage U0/U is 450/750V and 600/1000V

l Max. permissible continuous operating temperature of conductor is 70℃

l The ambient temperature under installation should not be lower than 0℃,if the ambient temperature is below 0℃, the cable should be preheated.

Why choose us?

l OEM service is available based on official & legal authorization.

l Strict quality control system.

l Sufficient support for our tendering representatives.

l Faster lead time than our competitors.

l Professional Cable solutions to your particular requirements.

l Free sample is available with economic express fee.

l Excellent quality with reasonable price.

l Strong technical support (technical data, drawing, etc.)

FAQ

Q: Are you a factory or trading company?
A : We are a manufacturer. We are professional in developing and producing electrical wires and cables since 2001.

Q: Can I visit your factory?

A :Yes! You are welcome to visit our factory for further detail check.

Our factory is located in Minqing, Fujian. You could choose to fly to Xiamen/Fuzhou International airport. And tell us your flight No., We will arrange to pick you up if you like.

Q: May I buy samples from you?

A: Yes! You are welcome to place sample order to test our superior quality and services.

Q: Can you put my brand name (logo) on these products?

A: Yes! Our factory accepts to print your logo on the products.

Q: May I know the status of my order?

A: Yes .The order information and photos at different production stage of your order will be sent to you and the information will be updated in time.

To receive a quote, further information or advice, Leen Cable invites you to contact us. And if you want to visit to know our production line and manufacturing property, please confirm with us in advance for later arrangement.

PVC Insulated And Sheathed Control Cable

PVC Insulated And Sheathed Control Cable,Flame Retardant Control Cable,Flexible Control Cables,Flexible Shielded PVC Control Cables

Fujian Lien Technology Co.,Ltd , http://www.liencable.com