The competition of Internet TV was the first to start, and from the online fight to gradually enter the offline layout, the second half of the game. However, the Internet TV broadcast control platform moves from behind the scenes to the front desk around the layout of the living room entertainment scene. It not only shoulders the responsibility of content broadcasting and control, but also promotes the progress of the Internet TV industry, creates a diversified ecological layout of content, and becomes an Internet TV broadcast. Control the key points of the platform.

Content is the vitality of online video platform

Video is an important part of the consumption of information content. In order to continue to allow consumers to pay, competitive content is the vitality of the platform.

The data shows that in 2017, the share of Internet TV in households will reach 45%, of which 75% of users come from content. It can be seen that the importance of content construction in opening up the Internet TV situation.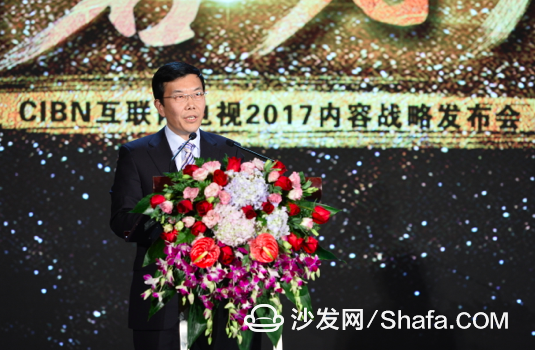 Photo: Tian Yuhong, Deputy Director of China International Radio

At the CIBN Internet TV 2017 content strategy conference, Tian Yuhong, deputy director of China Radio International, said in his speech: "In recent years, more and more online video platforms have realized that they can truly reflect core competitiveness and attract users. It is still high quality and valuable content. The strategy of "content is king" is sang again in the network audiovisual industry."

Of course, broadcast and video have different forms of content. CIBN Internet TV as a rising star really needs to continuously reinforce its own shortcomings in video content. Therefore, the CIBN Internet TV 2017 content strategy conference is held against CIBN Internet TV. Platform partners and users are a positive signal, which also indicates that China's big-screen video competition will usher in a heavyweight player.

So, what is the content strategy of CIBN Internet TV in 2017 and how can it be done?

In 2017, CIBN Internet TV will focus on creating its own content on the head, and will use "head content to drive segmentation content" as the core layout to create a complete content industry chain. Including: In the direction of content, adhere to the internationalization, quality, and specialization; In the international co-production, film and television variety and music, 2017 CIBN Internet TV will have major actions.

In addition, CIBN Internet TV has also released three brand segments for the segmented content market - CIBN "Oriental Grand Theater", "CIBN Life School" and "CIBN Literary Theater". It will explore new ways of playing vertical content in these three areas. . This has also become a support point for CIBN's Internet TV platform to compete for differentiation through exclusive original content.

CIBN Internet TV took international trump card

The platform can have no boundaries, but it must have its own competitive landscape. It seems that the strategic planning of CIBN's Internet TV content has been very clear, but the most prominent competitive advantage must be internationalization.

From an external perspective, China's overall national strength has been enhanced, coupled with the Chinese government's strategy of "One Belt and One Road", which has continuously enhanced its international influence. In addition, the more urgent the love for Chinese companies to participate in international competition is, the more they will accelerate their internationalization, and the faster their cultural integration will be. This is not a fashionable business, but an opportunity. It is also an irresistible trend.

For the time being, China's seven Internet TV content broadcast platforms, CIBN Internet TV backs China's international broadcast platform, is the most international perspective, international thinking, international resources and access to a platform.

Tian Yuhong mentioned that CIBN Internet TV, through the linkage of resources inside and outside Taiwan, has started business cooperation with many countries including the United States, Turkey, Japan, and Thailand, effectively expanding its overseas distribution channels, and its influence has been continuously improved.

At the same time, CIBN Internet TV should also further increase investment, expand resources, highlight the characteristics of internationalization, drive content construction with international communication, and gradually become the unique media brand of the Internet TV industry.

Maoerer Zhao Hongyu, general manager of Guangdong Overseas Business Division, said that CIBN Internet TV is committed to Chinese culture "going global" and international cultural exchanges. In 2017, CIBN Internet TV will use Chinese and foreign co-productions of film and television dramas, "Belt and Road" documentaries, The three levels of international communication have comprehensively upgraded the construction of internationalized content.

Including: Cooperation with Turkish, Japanese, Thai, American and other national film, TV drama, and documentary filmmakers to collaborate on multi-national works and invest heavily in the introduction of nearly one thousand national excellent films in all languages, typed movies, and multi-cultural communication. The Chinese audience opened up a broader view of the movie.

In addition, the decision to escalate the strategic content of the future content and build the ground floor platform. As of October 2016, CIBN Internet TV has developed a total of 68.19 million subscribers. It has mobile client products such as "CIBN Mobile TV", "Looking East", and "Global Vision", and has built a relatively complete platform matrix.

In short, from a long-term perspective, CIBN Internet TV hopes to adopt a content strategy to form a unique content layout, occupy a key position in the future content market, win strategic opportunities in the wave of full-scale outbreaks and fierce market competition, and become internationalized. Successful model.


Smart TV/box information can focus on smart TV information network sofa butler (http://), China's influential TV box and smart TV website, providing information, communication, etc. on TV boxes, smart TVs, smart TV software, etc. Answering questions.

The material of this product is PC+ABS. All condition of our product is 100% brand new. OEM and ODM are avaliable of our products for your need. We also can produce the goods according to your specific requirement.


Our products built with input/output overvoltage protection, input/output overcurrent protection, over temperature protection, over power protection and short circuit protection. You can send more details of this product, so that we can offer best service to you!

Lcd Adapter,Mini Size Lcd Adapter,Security Lcd Adapter,Waterproof Lcd Adapter

Shenzhen Waweis Technology Co., Ltd. , https://www.waweis.com